15 Sep

Airbnb and a free lunch: how county lines drug gangs lure t…




When Carlie Thomas arrived in a seaside town in the south of England, she wondered if she was in the wrong place. She was there to support young people affected by county lines, but the group of 22 boys she was working with, aged 12 to 17, were all close friends who did not show any obvious signs of exploitation and abuse. She called the head office at St Giles Trust in London, where she is a senior caseworker, to suggest going elsewhere.

"I wondered whether we were in the wrong spot," she said. "But then we had some clients tell us that they've been robbed and that they owed money. And, not long after that, other youngsters started disclosing."

The disclosures revealed a picture radically different to one a casual observer might expect. Instead of chaos and obvious brutality, the county lines operation in the area was a meticulously crafted affair that shared some characteristics with an ordinary commercial enterprise. Instead of taking over drug users' homes through force and fear, out-of-area gangs were renting Airbnb properties to manufacture and sell drugs, manipulating young people to work for them, and luring them with offers of stable, potentially risk-free employment.
A more conventional model of county lines is still prevalent – and often synonymous with thuggishness and brute force. But this seaside operation, the extent of which can be revealed in detail for the first time by the Guardian, shows how in some cases gangs are becoming more sophisticated and running their organisations like legitimate businesses. In such cases, county lines is professionalising.
"What we always associate county lines with is addicts, needles, bandos [abandoned houses], and prostitutes, but to see how well organised with and how happy the boys were with the situation was even more terrifying," Thomas said. "Because I thought … how on earth was I meant to pull you out?"
The teenage boys would race to get to the Airbnb at 9am, when the work day began. Work was handed out on a first come, first served basis. Once everyone was given their role, the boys' lunch order would be taken and an efficient factory line would be set up.
During lunch, the boys would be given an hour to eat their takeaway, often McDonald's, and play video games. When the lease was over, the boys would clear up and the surfaces would be bleached. They would then move to the next Airbnb property, leaving no trace. Each boy would be given £250 for the day's work.
It's a world away from what the majority of children trafficked into county lines experience. One mother, who spoke to the Guardian on the condition of anonymity, said her son was first given cannabis for free, but within days he was told he owed a debt to the local gang.
"They roughed him up. When I did pick him up he had loads of bruises on him and he needed a good meal," she said. She later found threatening messages on his phone and her son admitted he had been forced to stay in a trap house (drug house), where he had to help package and distribute drugs.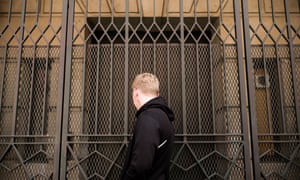 "It's clear and obvious what's going on in the bandos and trap houses, but when you've got Airbnb, they can be moving every two days and it's impossible to pin that down," Thomas said.
The well-organised operation posed a real challenge for social services. "It makes it more difficult to reach them. There's no way those youngsters were disclosing anything to the police," Thomas said.
When compared with the work they were doing before, dealing drugs round the clock in a crack house, the current operation was far less risky and the hours shorter.
"They would say: what's the problem? In their mind, they're not going missing, they're not in a dangerous or dirty position. They don't have to normalise the…
[
Transportation Services Jonathan Cartu