22 Oct

The Most Bike-Friendly Colleges in 2019




Whether it's to reduce their carbon footprint, for exercise or just plain fun, more and more college students across the United States are opting to bike around campus. 

So, to accommodate these students, many colleges and universities have recently put a lot of time and resources towards making their campuses more bicycle-friendly. But while some schools stop at basic necessities like bike paths and racks for students to lock up their bikes, others go much further. 

Every year, the League of American Bicyclists recognizes the best campuses for biking through its Bicycle Friendly University (BFU) Awards. Schools are honored for developing innovative ways to promote cycling and to provide a more bicycle-friendly campus. The schools that receive the highest awards are those that offer connected infrastructure, bike maintenance and storage options, theft prevention programs, biking skills classes and social events and staff to support better biking. 

Topping 2019's list are Colorado State, Portland State, Stanford, UC Davis, UC Irvine, UC Santa Barbara, University of Minnesota, Twin Cities and University of Wisconsin – Madison.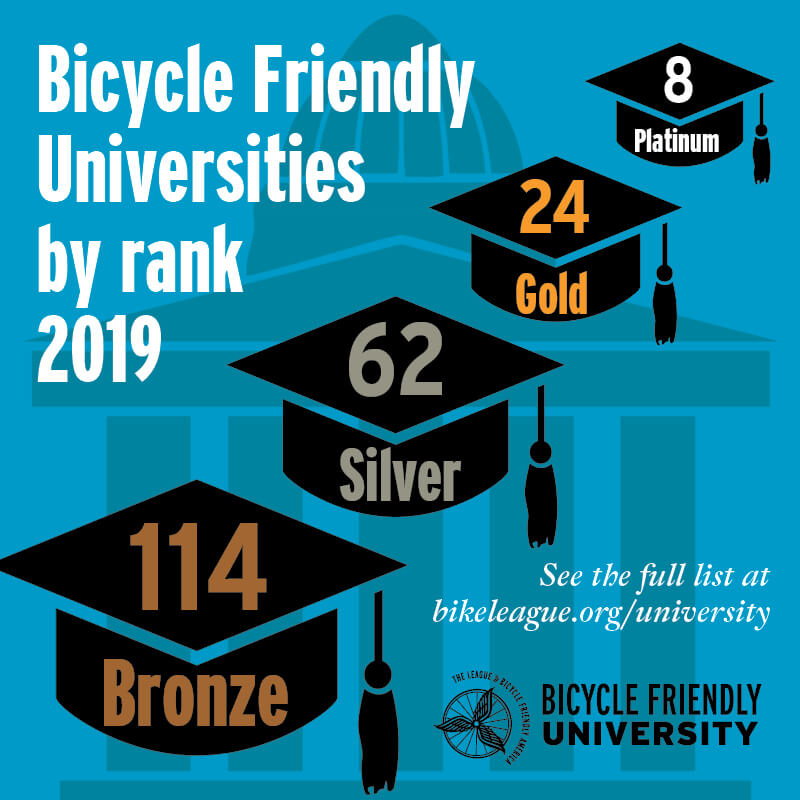 How it works

To be considered for an award, universities annually submit an extensive application. Once submitted, the League evaluates applications based on the following six areas: engineering, education, encouragement, enforcement, evaluation and planning, and equity, diversion and inclusion. 
If selected, schools are deemed honors, ranging from bronze to platinum, as well as honorable mention. But even if they aren't selected, schools receive feedback from the League to guide them where and how to improve. Every four years, to either retain the award received or move up to a higher award, universities need to submit another application highlighting their improvements.
In total, 208 colleges and universities across 47 states and Washington D.C. currently hold BFU status. Of those schools, 16 were recognized for the first time this year, 12 upgraded their awards, and 20 renewed their awards. 
"Just as applying to a college or university requires self-reflection, self-evaluation, and meeting rigorous standards, so too does applying for and attaining Bicycle Friendly University status,"  Bill Nesper, executive director of the league, said in a statement. "By meeting one of the four award levels, universities and colleges demonstrate a commitment to not only fostering academic achievements, but also to developing model environments where people can safely bike and contribute to healthier, more sustainable outcomes."
To see if your school made the list, click here.
The universities that stand out

Among the 208 schools that currently hold BFU status, there are some that deserve a special shoutout, either for extremely innovative ideas, great progress or maintaining high standards. 
Virginia Tech University

Virginia Tech is one of those schools. Now a silver-level BFU, VT has greatly improved its infrastructure and conditions for cyclists over the past year. 
At the bottom floor of VT's Alternative Transportation Center now stands the Hokie Bike Club, a free bicycle maintenance and commuter education center for all students on campus. The club, which received more than 3,000 visits last year, gives cyclists free access to tools and resources for bike repair. Also, on campus, students can attend bike-themed workshops, social events and cycling safety courses. 
But that's not all. Starting last year, the school partnered with Roam NRV to launch a bike share program across its eight campuses. In its first year of existence, cyclists took more than 8,300 trips on the Roam NRV bikes and traveled more than 20,000 miles.
Stanford University 

As the first and only university to receive a renewal of its platinum rating twice since the BFU awards were created in 2011, Stanford serves as a model for how other schools can become more bike-friendly. 
On its main campus, Stanford has more than 13,000 cyclists every day. For a long time, the university has worked towards meeting every need of those riders, from improving infrastructure, conducting bike safety outreach and much more. 
Since Stanford last renewed its platinum rating in 2015, the university has added six roundabouts, which are safer for cyclists, increased bike parking capacity to more than 19,000 spaces, and added more than 12 miles of bike lanes and 17 miles of shared use paths on campus, among other things. 
"We know that when colleges and universities invest in bicycling, great things happen," Brian Shaw, executive director of Stanford Transportation, said in a statement. "We decrease our carbon footprint, improve health, increase connection to community, and promote a healthy, fun and safe campus culture."
Yale University

Yale University, one of only 24 gold-level BFUs, also deserves a shoutout for its tremendous progress. Yale first became a BFU in 2012 when it achieved bronze-level status. But since, it has quickly climbed up the rankings, reaching silver-level status in 2014 and gold-level in 2017.
"The program is a valuable way to benchmark our progress from year to year and learn from peer institutions," Brianne Mullen, Yale's Urban Sustainability Program Associate, told The University Network. "The Bicycle Friendly University application process is particularly helpful for identifying strategies we might try in the future to become even more bike friendly."
Yale now has 17 miles of bike lanes on a total of 20 miles of its campus roads and has one bike rack for every four people on campus. 
Yale's push for biking fits into its larger plan to encourage more sustainable transportation, overall. 
"We have set goals to reduce our greenhouse gas…
[
Jonathan Cartu